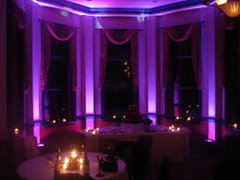 Up Lights - Uplighting
Uplighting is one of the the biggest trends in wedding reception decorating today, and our customers appreciate our low prices on uplighting compared to our competition and the overpriced venue uplighting charges.
So what exactly is uplighting?
Quite simply, it's a series of lights, set up around a room, placed on or near the floor, shining up toward the ceiling. The light beams created on the walls gives the room a look of colored pillars accenting and complimenting the entire room. You can pick any color (s) that best set the mood and match the colors of your event.

Uplighting can create the perfect feel and add a dramatic impact to your wedding reception. When used properly, uplighting can greatly enhance the ambiance of the room in a very elegant way. Make your wedding reception the most personalized and visually beautiful, stunning event possible with our professional uplighting packages.