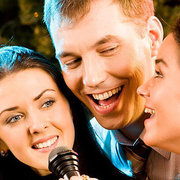 karaoke


Please call to reserve this item.


Karaoke can either be boring or entertaining, with our karaoke we feel ours are above the rest with top equipment, including sound system, lighting, and our host has years of experience in the entertainment industry.

All our music is listed in alphabetically order in our files, and are provided to you as the customer on the night so there is plenty to choose from.

We all want to be Robbie Williams, or Kylie, but maybe shy to sing in public, but with our host you will feel at ease on stage, remember karaoke is only for fun, it is the taking part that counts.

We have over 200000+ Karaoke Tracks that are available on the night. You can make your evenet more memorable by adding , Led Lighting, smoke machines, bubble machines, and a whole lot more!!!!

So if you are having a party and want to add that special touch, then why not call Xtreme Play N Go Party Rentals for your personal quote.