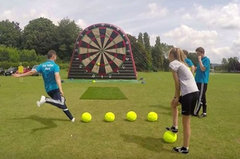 Jumbo Inflatable Soccer Dart

Actual Size: L16xW16xH9
The Footdarts inflatable challenge is a very original game, just landed in Michigan at the begining of 2017. It is ideal for small and medium sized groups looking to have a nice time. The game can be organized as a stand-alone challenge for example for short events, icebreaking sessions, etc. But also part be part of a large event, such as:
Beach Olympic games,
Teamwork challenges,
Full day adventure workshops,
Etc.
Several games can be designed and organized with the foot dart inflatable, as we can use the feet but also the hands or even the head. Can be one person shooting the ball or a sequence of several people. This is where we introduce teamwork in this programme.