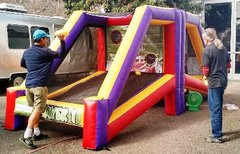 Head 2 Head Football

Setup Area: 15x9x7'10"
Head 2 Head Football is a fun, high-paced, intense game for all ages. The first person to pass all the balls from their side to their opponents' side wins. Remember each time you get one of your balls to pass through to their side- they now have one additional ball to clear from their side. This is a great two player game, that's just as competitive as it is fun to watch!
1