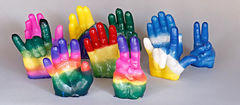 Wax Hands
Xtreme Play N Go Party Rentals is pleased to offer our customers the newest and Hottest Attraction around!

Wax hands is an activity like no other. Your guests, no matter their age, will love making their own hand mold in wax.

It is safe, fun and exciting. Your hand will be dipped in cold water and then warm wax until a perfect mold is mastered by our professional staff. Then you pick the colors and the mold is yours to keep forever. There are a variety of hand forms to make; thumbs up, peace, OK...

Each mold takes only minutes to create by our trained staff. We do require a water source to fill our buckets and a power source to plug our machine into.

Wax Hands is a "hands-on" craft. We specialize in events such as bar/bat mitzvahs, colleges, corporate events, fundraisers for your church festivals, private parties, after proms, school functions, and more!!!
$200 per hour (2 hour min)
Includes attendant and supples
(additional attendant fee may apply for large groups)